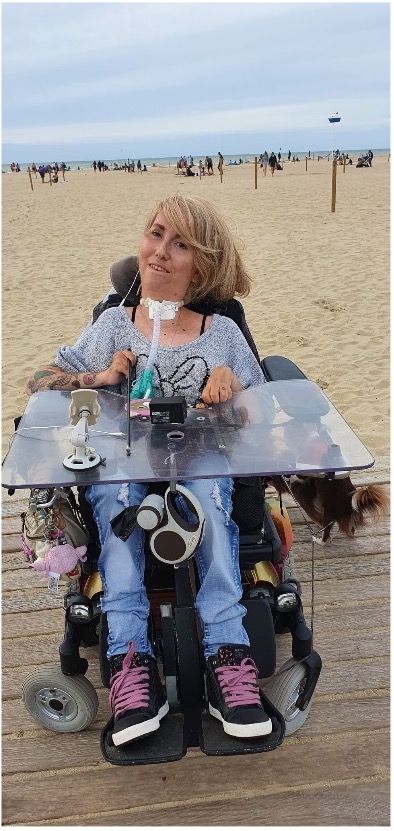 The following is an interview with Sandy who lives with a severe form of LAMA2-CMD.

Hello Sandy, could you present yourself in a few words ?
My name is Sandy, I am 40 years old and I have LAMA2/merosin-deficient Congenital Muscular Dystrophy. I was diagnosed only a few years ago, as I must admit that my medical follow-up is chaotic.
I remain optimistic, although the problems seem to be piling up. I had breast cancer 7 years ago, multiple pneumothoraxes, fractures due to osteoporosis and enormous pain due to my back arthrodesis (editor's note: back arthrodesis: heavy surgical operation aiming at fusing two or more vertebrae in order to eliminate all mobility between them. It is necessary in cases of very severe and dangerous scoliosis, as can happen in LAMA2-CMD and other myopathies).
I have had many surgeries, including hip, back, tracheostomy and mastectomy.
What are your interests, your hobbies, your work if you have one?
I love Japan, anime, nature and above all, animals. I have a great passion for dogs, I have a small family breeding of chihuahuas.
I would dream of having a single-storey house with a small piece of land for them and also for me and my lack of calcium… Unfortunately, loans are not available for fragile people like us in France.
This disease is considered very disabling, what is your point of view on the subject? What is the place of this disease in your life?
The disease has deprived me of a lot of important moments in my life, or maybe it's due to the way things were taught to me…
I don't have a very fulfilling social life, and I would have liked to be better integrated into school and working life. At my time, there was no AVS (editor's note : school life assistant) and I grew up lonely…
I regret that the medical staff who took care of me when I was young did not focus more on my arms and my jaw, because today my arms are extremely retracted and I am afraid that I will not be able to drive my chair in a few years…
With the macroglossia and my mouth which opens very little, it is more and more difficult for me to eat, and nothing is done at that level, no physiotherapy has been planned, whereas I find it essential…
The medical follow-up leaves a lot to be desired…
Do you have anything to add for the families and practitioners who will read you?
Educate your children as if they had no disabilities, don't confine them to being disabled. Prepare them for their adult lives and don't be afraid to talk to them about love and sexuality.
Don't be afraid of a tracheotomy, because postponing the operation will only bring you more worries. It is a second wind of life, a chance to see the future.
Listen only to yourself, because doctors only rely on theories and assumptions. Only you know what you need, so fight for a dignified and comfortable life.
I would like to add that we put the children first, but these children will become adults and eventually, will they not be forgotten? Won't they end up being lessened, sometimes in depression? As adults, don't we have the right to live fully for a few years to make up for all that we have suffered and lost?
Why deny the fact that the real hardships, the unbearable physical suffering and the real sorrows come in adulthood. I feel like we are buried alive.
What would you expect from a treatment?
What I would want from a treatment is first of all the recognition that we have the right to live…
Then, I would like to regain some mobility in my arms, in my eyes which are beginning to fail me and especially to regain my respiratory capacity in order to be less dependent on the respirator.
To regain a little independence, because that is what hurts me the most in this disease.
A final word?
I would like to thank our caregivers who play a vital role in our daily lives. Without them I probably wouldn't be able to live at home with my animals. I wouldn't have anything to get up for every morning…
They do a remarkable job and often spend more time at our side than at home with their families, and yet they get a miserable salary. I think it's a shame…
Thank you Sandy. Thank you so much for this strong and moving insight into your life with LAMA2-CMD.